Personal Checking Accounts
Checking Accounts that Fit Your Needs
Waukesha State Bank offers a variety of checking account options - one of which will fit your needs perfectly. Below you will find the account that gives you everyday convenience while saving you time and money.
All of our Personal Checking Accounts feature:
Listed below are all of our checking account options.
1 Whether or not an ATM has a surcharge, normal fees still apply as follows: A $2 transaction fee will apply at all non-Waukesha State Bank ATMs unless any one of the following conditions are met: 1) you are an Advantage Plus or Student Checking account owner, 2) you maintain a minimum balance of $2,500 or more during the checking account monthly statement cycle or savings service charge cycle (calendar month), 3) the transaction is a deposit, transfer or balance inquiry.
2 Checking accounts other than Advantage Plus or Value Added Checking Plus pay a fee for Online Bill Pay if they receive Paper Statements. For Advantage Plus, Value Added Checking Plus and other checking accounts with Paperless Statements, a monthly inactivity fee will apply after 60 days of non-use.
3 Terms and fees are subject to change at any time. Free accounts may be subject to fees such as ATM, early closing, overdraft and bill pay services.
4 $2.00 per electronic transfer (online, telephone, or pre-authorized) to a checking account after 6 per statement cycle.
5
$3.00 fee for instant transfers.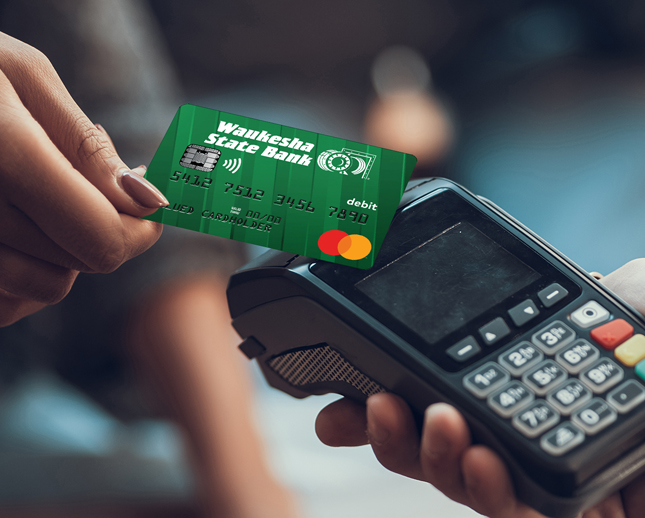 Debit Mastercard®: The quick, safe way to pay for purchases!
Using your Debit Mastercard is the perfect way to pay at a variety of places, like gas stations, grocery stores, restaurants... and more!