Merchant Card Services
Your business is what you love to do. Whether it is a new venture or you have been in business for many years, simplifying payments for your customers is key for your success.
Waukesha State Bank and Worldpay from FIS can help.
We know that accepting multiple payment types across a variety of channels is essential to keeping your business competitive, and your customers satisfied and loyal. With our expertise, we can help you navigate the maze of new payment products, regulatory concerns, compliance issues and fraud risks. We are committed to providing you the lowest possible cost, highest value solutions for your business.
We can help you with:
Payment processing
Gift card and loyalty programs
Mobile & online payment solutions
Check processing and decisioning
Compliance and data protection
24/7 technical support
Improving cash flow
Superior reporting
Security and compliance
Consultative support

Interested?
To sign up or learn more about how Merchant Card Services can help you increase business and strengthen customer relationships, call (262) 549-8518.
Contactless Debit Mastercard BusinessCard®
The Waukesha State Bank Debit Mastercard BusinessCard1 is a contactless, fully functional debit card with the added abilities of an ATM card. You can use your Debit Mastercard BusinessCard to make purchases anywhere Mastercard is accepted, and the funds are withdrawn directly from your business checking account just like a check or ATM purchase. You'll enjoy the ease of accessing your business checking account's funds at more than 36 million merchants worldwide. And better yet, our cards can be instantly issued the same day for your convenience.
Benefits of a Waukesha State Bank Debit Mastercard BusinessCard
There is no annual fee for this card.2

Some merchants will not accept out of town checks or even a local check; however, 36 million merchants worldwide accept Debit Mastercard BusinessCard.

EMV Chip Technology: Improves the global usability and security of your card as more merchants at home and abroad switch to advanced chip card terminals.

Contactless: Just tap and pay - merchant terminals read the chip in the card without you having to swipe it.

Zero Liability: In the event that your card is used to make unauthorized purchases - whether made in a store, by phone or online - you won't be held liable. 3

Mobile Receipt Management: With this Android or iOS mobile application, business owners and employees can snap photos of receipts to store them securely in the cloud. The application helps small businesses organize and categorize expenses, offering easy data exports and clear reporting.

Mastercard Easy Savings:

Take advantage of automatic savings with

Mastercard Easy Savings

. Just use your debit card at participating merchants to receive automatic rebates.

4

Mastercard ID Theft ProtectionTM:

Mastercard ID Theft Protection alerts you to possible identity theft by monitoring the surface, dark and deep web, searching for compromised credentials and potentially damaging use of your registered personal information. It also provides you with resolution services should you find yourself a victim of identity theft. Cardholders can enroll using

Mastercard's Identity Theft Portal

.

4

Mastercard Global ServiceTM: Provides worldwide, 24-hour assistance with Lost and Stolen Card Reporting, Emergency Card Replacement, and Emergency Cash Advance. In the United States (including all 50 states, the District of Columbia, the U.S. Virgin Islands and Puerto Rico) and Canada, call 1-800-307-7309. Outside of the United States, call the United States collect at 1-636-722-7111.4

MasterRental® Insurance:

Can provide reimbursement for physical damage to or theft of a rental vehicle. To learn more about

MasterRental, click here.4

Mastercard Priceless Cities:

Offers unique access and special experiences, including

Mastercard Golf,

so you can enjoy more of the cities you love. Click here to subscribe and explore

Priceless Cities

.

Mastercard Merchant Offers:

Adobe: Cardholders who use their Mastercard BusinessCard to subscribe to 12 months of Adobe Creative Cloud receive 2 complimentary months added to the end of the initial subscription term.5

Intuit® QuickBooks® Online and QuickBooks Online Payroll Discount:

Save 40% on

QuickBooks Online

or 50% on QuickBooks Self-Employed for 12 months, plus a free 30-day trial.

6

Plus, save 40% on QuickBooks Online Payroll for 6 months.

7

Intuit® Turbo Tax Discount:

Cardholders receive up to a $20 discount on

Turbo Tax

federal products.

8

McAfee: Protect your business with a 30-day free trial and discounted one-year subscription to McAfee Total Protection for 10 devices at $34.50. Plus, receive a one-year complimentary subscription to TechMate.9

Microsoft Advertising: Grow your business and attract more customers with $125 in advertising credit after spending only $10 with Microsoft Advertising.10

Salesforce Essentials: Build stronger customer relationships with the CRM tool built for small business. Just $9.99 per month, per user.11

Stride: Stride is a health benefits marketplace offering coverage for health, dental, vision, life or other benefits. Register with your Mastercard and receive a 30-day free trial of the My Medical Champion telehealth service.12

Zoho Social: Run your business better with Zoho's social media management solution. With Zoho social, you can build, manage and measure your business's reach across networks - save 50% on your first year's subscription.13

Uber Freight: Manage all of your shipping needs with Uber Freight. Earn up to $1,000 in Uber Freight load credit with your Mastercard small business card. Limited-time offer. 14
Uber for Business: Uber for Business is an all-in-one platform that helps companies manage rides, meals, delivery and more. Receive up to $100 in Uber vouchers when you make qualified purchases with your Mastercard small business card. Limited-time offer.15

For complete details regarding Mastercard's business debit card core benefits, click here to view the Mastercard Guide to Benefits.
Apply for your card today at one of our convenient locations!
1 The Waukesha State Bank Debit Card is subject to approval. Other requirements may apply.
2 Inactivity fee may apply.
3 Certain restrictions apply. See www.mastercard.us/zero-liability for details.
4 Certain restrictions apply.
5-15 Terms and conditions apply. See www.mastercard.us/en-us/business/overview/grow-your-business/offers.html for details.
Tips
To get and/or change your PIN, call our VRU (Voice Response Unit) at 1-800-567-3451 and select a PIN which will be easy for you to remember. You can also change your PIN at any Waukesha State Bank ATM. DO NOT write your PIN on your card. The PIN change will be immediate.
When traveling, look for other networks that support your Waukesha State Bank Debit Mastercard BusinessCard.

Helpful Links
Lost or Stolen Debit Cards
During banking hours (8 a.m. - 6 p.m. Monday - Friday, and 8:30 a.m. - Noon Saturday), call (262) 549-8531.
During non-banking hours, call 1-800-554-8969. Please have your social security number on hand, as this will be required to assist you.

Employee Benefit Banking
Benefits You Can BANK ON
We know you value your employees' professional success, and you know that goes hand-in-hand with their personal success as well. Team up with Waukesha State Bank to offer your employees a suite of personalized financial tools.
Safe Deposit Boxes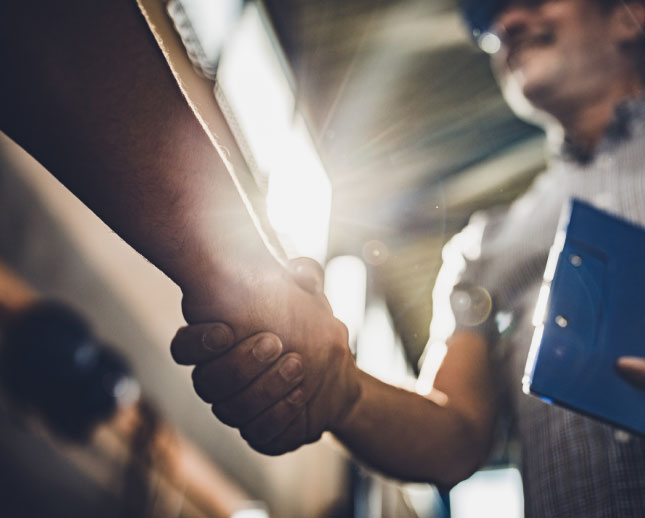 Meet Our Team
Our bankers have been serving the financial needs of the community with a personalized, one-on-one approach to banking and an emphasis on customer service and community involvement.