Security News
Online Holiday Scams - What to Watch For
With online shopping ramping up for the holiday season, be on the lookout for scams. Check out this TMJ4 News segment where Waukesha State Bank Fraud Analyst, Amber Moore, shares a recent PayPal phishing scheme. If you think you've been a victim fraud, contact us at 262-549-8500.


Safe Banking for Seniors – Scams to Look Out For
Waukesha State Bank is a proud participant of the American Bankers Association Foundation's Safe Banking for Seniors program. We've joined banks from across the country in helping older adults, their families and caregivers prevent elder financial exploitation.
Did you know that senior financial abuse costs an estimated $36.5 billion annually? If you are a senior, how can you protect yourself? As a family member or friend, what are some warning signs of elder financial exploitation? Find out by clicking the links below.
Learn more about protecting the elderly from financial exploitation. 
COVID-19 Scams
The COVID-19 pandemic impacted the world in many ways, including scam text-message campaigns and robocalls that prey on virus-related fears.

Some of the most popular scams include:
What is it? The scammers typically impersonate grandchildren in crisis situations, asking for immediate financial assistance, and they can "spoof" the caller ID that appears on the recipient's phone to make the call look like it's coming from a trusted source.
What can you do? The best advice for this type of scam, or any spoofed phone call? Hang up immediately. Or, if you have caller ID and you don't recognize the incoming phone number, just let it go to voicemail. If you are concerned about a loved one, contact them, their family members or their friends directly to check on their well-being.
What is it? The Social Security Office of the Inspector General has received reports that Social Security beneficiaries have received letters through the U.S. Mail stating their payments will be suspended or discontinued unless they call a phone number referenced in the letter.
What can you do? If you receive a letter, text, call or email that you believe to be suspicious, about an alleged problem with your Social Security Number, account, or payments, hang up or do not respond. We encourage you to report Social Security scams using our dedicated online form, at https://oig.ssa.gov.
What is it? Fraudsters often use the latest news developments to lure investors into scams. We have become aware of a number of Internet promotions, including on social media, claiming that the products or services of publicly-traded companies can prevent, detect, or cure coronavirus, and that the stock of these companies will dramatically increase in value as a result.
What can you do? When investing in any company, including companies that claim to focus on coronavirus-related products and services, carefully research the investment and keep in mind that investment scam artists often exploit the latest crisis to line their own pockets. When in doubt, contact your investment advisor. If you don't have one, our Waukesha Investments team would be happy to help.
Tips to Help You Avoid Being Scammed
The FCC offers the following tips to help you protect yourself from scams, including coronavirus scams:
Do not respond to calls or texts from unknown numbers, or any others that appear suspicious.
Never share your personal or financial information via email, text messages, or over the phone.
Be cautious if you're being pressured to share any information or make a payment immediately.
Remember that government agencies will never call you to ask for personal information or money.
Do not click any links in a text message. If a friend sends you a text with a suspicious link that seems out of character, call them to make sure they weren't hacked.
Always check on a charity — for example, by calling or looking at its actual website — before donating.
Check with your phone company about call blocking services and apps to filter out suspected spam robocalls.
If you think you've been a victim of a coronavirus scam, contact law enforcement immediately.
For more information on these and other scams, go to https://www.ftc.gov/coronavirus/scams-consumer-advice.
FTC: Avoiding Money Wiring Scams
The Federal Trade Commission has released a video to educate consumers about the dangers of money wire scams. In the brief video, various scenarios are presented to illustrate how scammers try to convince consumers to wire money, including: lottery/advance fee scams, rental scams and the grandparent scam. The FTC encourages consumers to investigate claims before sending anyone money.
Read more and access the money wiring scams video
.
Protect Your Identity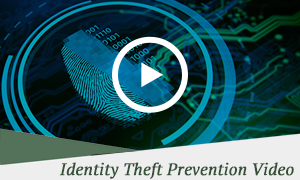 FDIC Identity Theft Resources
FDIC Offers Identity Theft Help
Protecting yourself online is important. Most of us rely on computers, web-enabled devices, and the internet for everything from shopping and communicating to banking and bill-paying. While there are a number of benefits of using web services (such as faster and more convenient services) you should also be aware of the risks. Visit the FDIC's Cybersecurity website to learn more.
It's also important to protect yourself when you're not online. The FDIC provides useful information to help you make informed decisions about your money and to protect yourself against financial frauds and scams. Visit the FDIC Consumer Protection website, where you'll find information on specific banking topics as well as links to other resources to learn more.
Phishing
Waukesha State Bank is aware of an increase in scam emails, popularly called "phishing" emails. Each day, many Internet users are assaulted by "important" emails that require "immediate attention" about some type of banking or e-commerce matter. This involves third parties using the name of legitimate companies, such as our bank, to obtain private information from customers, such as personal or financial details (e.g. credit card numbers, bank account information, Social Security Number, passwords, or other sensitive information). This practice is carried out either by sending a phony email directed to the victims or by directing them to a website where information is requested.
At Waukesha State Bank we are committed to protecting your privacy and security. We will never initiate a request for sensitive information from you via email (i.e. Social Security Number, User or Access ID, Password, PIN or account number).
What is a Phishing Threat?
Phishing is similar to fishing in a lake, but instead of trying to capture fish, phishers attempt to steal your personal information. They send out emails that appear to come from legitimate websites such as eBay, PayPal, banking institutions, even the IRS or FDIC. The message may ask you to "update," "validate," or "confirm" your account information. Some phishing emails threaten a dire consequence if you don't respond. The messages direct you to a website that looks just like a legitimate organization's site. Instead, it's a fake site whose sole purpose is to trick you into divulging your personal information so the operators can steal your identity and run up bills or commit crimes in your name.
In order for Internet criminals to successfully "phish" your personal information, they must get you to go to a website from an email. Phishing emails will almost always tell you to click a link that takes you to a site where your personal information is requested. Legitimate organizations would never request this information from you via email. However, even if you visit the fake website and just enter your username and password, the phisher may be able to gain access to more information by just logging into your account.
The following is an example of a suspicious email. Please note, "First Generic Bank" is not associated with Waukesha State Bank, and please do not click the link embedded in the example. Remember, Waukesha State Bank will never ask for personal information, login credentials, or account numbers via email request. If you ever receive an email which appears to be from Waukesha State Bank asking for this type of information, contact us at (262) 549-8500.


Example: Phishing Email/Phishing Website
From: First Generic Bank, accounts@firstgenericbank.com
Subject: Please update your account information
Date: September 12, 2016 3:23 PM PST
Dear First Generic Bank user,
As a courtesy to our valued customers, First Generic Bank conducts regulary account informationn verification processes. During the most recent process, we found that we could not verify your information.
Please click on the above link to our website and confirm or update your account information. If you do not do this within 48 hours of receipt of this email, you will not be able to use your First Generic Bank account or 30 days. This is an extra precaution we take to ensure your account remains secure.
Sincerely,
First Generic Bank
If there is any doubt that the e-mail is legitimate, take the proper precautions and don't enter your information. Even if you believe the message is valid, following the guidelines above will prevent you from giving phishers your personal information.

What to Look for in a Phishing Email
Generic greeting. Phishing emails are usually sent in large batches. To save time, Internet criminals use generic names like "First Generic Bank Customer." If you don't see your name, be suspicious.
Forged link. Even if a link has a name you recognize somewhere in it, it doesn't mean it links to the real organization. Roll your mouse over the link, and see if it matches what appears in the email. If there is a discrepancy, don't click on the link.
Request for personal information. The point of sending a phishing email is to trick you into providing your personal information. If you receive an email requesting your personal information, it is probably a phishing attempt.
Sense of urgency. Internet criminals want you to provide your personal information now. They do this by making you think something has happened that requires you to act fast. The faster they get your information, the faster they can move on to another victim.
You can take steps to avoid phishing attempts by slightly modifying your browsing habits. To avoid getting hooked:
Never provide your personal information in response to an unsolicited request, whether it is over the phone or over the Internet. Emails and Internet pages created by phishers may look exactly like the real thing. They may even have a fake padlock icon that ordinarily is used to denote a secure site. If you did not initiate the communication, you should not provide any information.
If you believe the contact may be legitimate, contact the financial institution yourself. You can find phone numbers and websites on the monthly statements you receive from your financial institution or you can look the company up on a phone book or on the Internet. The key is that you should be the one to initiate the contact, using contact information that you have verified yourself.
Never provide your password over the phone or in response to an unsolicited Internet request. A financial institution would never ask you to verify your account information online. Thieves armed with this information and your account number can help themselves to your savings.
Review account statements regularly to ensure all charges are correct. If your account statement is late in arriving, call your financial institution immediately. If your financial institution offers electronic account access, periodically review activity online to catch suspicious activity.
If you are uncertain about the information, contact the company through an address or telephone number you know to be genuine. If you are contacted about an account needing to be "verified" (or any other topic used by phishers), a good rule of thumb is to contact the company directly to check that the email is legitimate. You could also type the website address into the address bar of the browser, rather than trusting any hyperlinks in the suspected phishing message.
If you get an email or pop-up message that asks for personal or financial information, do not reply, do not click on the link in the message, or cut and paste a link from the message into your web browser. Phishers can make links look like they go one place, but actually send you to a different site. Legitimate companies don't ask for this information via email. If you are concerned about your account, contact the organization directly.
If you receive an unexpected email saying your account will be shut down unless you confirm your billing information, do not reply or click any links in the email body. Again, if you are concerned about the account, contact the organization directly.
If you unknowingly supplied personal or financial information, contact your bank and credit card company immediately.

Other Tips
Area codes can mislead. Some scammers send emails that appear to be from a legitimate business and ask you to call a phone number to update your account or access a "refund." Because they use Voice Over Internet Protocol technology (VOIP), the area code you call does not reflect where the scammers really are. If you need to reach an organization you do business with, call the number on your financial statements or on the back of your credit card. And delete any emails that ask you to confirm or divulge your financial information.
Use anti-virus and anti-spyware software, as well as a firewall, and update them all regularly. Some phishing emails contain software that can harm your computer or track your activities on the Internet without your knowledge.
Anti-virus software and a firewall can protect you from inadvertently accepting such unwanted files. Anti-virus software scans incoming communications for troublesome files. Look for anti-virus software that recognizes current viruses as well as older ones; that can effectively reverse the damage; and that updates automatically.
A firewall helps make you invisible on the Internet and blocks all communications from unauthorized sources. It's especially important to run a firewall if you have a broadband connection. Operating systems (like Windows and Linux) or browsers (like Edge, Internet Explorer, Chrome or Firefox) also may offer free software "patches" to close holes in the system that hackers or phishers could exploit.
Don't email personal or financial information. Email is not a secure method of transmitting personal information. If you initiate a transaction and want to provide your personal or financial information through an organization's website, look for indicators that the site is secure, like a lock icon on the browser's status bar or a URL for a website that begins "https:" (the "s" stands for "secure"). Unfortunately, no indicator is foolproof; some phishers have forged security icons.
Review credit card and bank account statements as soon as you receive them to check for unauthorized charges. If your statement is late by more than a couple of days, call your credit card company or bank to confirm your billing address and account balances.
Be cautious about opening any attachment or downloading any files from emails you receive, regardless of who sent them. These files can contain viruses or other software that can weaken your computer's security.

How to Report if You Have Been a Victim of a Phishing Scam
Forward phishing emails to spam@uce.gov – and to the company, bank, or organization impersonated in the phishing email. Most organizations have information on their websites about where to report problems. You also may report phishing emails to reportphishing@antiphishing.org. The Anti-Phishing Working Group, a consortium of ISPs, security vendors, financial institutions and law enforcement agencies, uses these reports to fight phishing.
If you believe you've been scammed, file your complaint at ftc.gov, and then visit the FTC's Identity Theft website at ftc.gov/idtheft. Victims of phishing can become victims of identity theft. While you can't entirely control whether you will become a victim of identity theft, you can take some steps to minimize your risk. If an identity thief is opening credit accounts in your name, these new accounts are likely to show up on your credit report. You may catch an incident early if you order a free copy of your credit report periodically from any of the three major credit reporting companies. See www.annualcreditreport.com for details on ordering a free annual credit report.
Learn other ways to avoid email scams and deal with deceptive spam at https://consumer.ftc.gov/articles/how-recognize-avoid-phishing-scams.

Free Credit Report