Teaching the Basics of Checking Accounts To Younger Kids
November 2021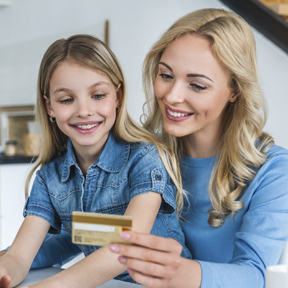 How to handle money is an important life lesson. The sooner you start your child's financial education, the more knowledgeable and responsible they will be with their money. Opening a checking account for your child is a great way to impart real-world money lessons.
Programs for kids
Checking accounts and programs specially designed for kids often mimic features of traditional accounts but typically offer parents or guardians important oversight. According to Investopedia writer Jeff Krohnfeldt, accounts with parental controls let you see how your kid is handling their money by sending you alerts, which let you step in when problems pop up. These alerts could be for things like low account balances, checks cleared, ATM withdrawals, debit card transactions, etc. Plus, you can even limit how much can be withdrawn at the ATM or charged on a debit card. Read more about real-time alerts like this from Waukesha State Bank.
"By utilizing banks that have teen programs, parents can help their child to establish a banking and a credit history while still under their roof," reports The Balance writer Madison Dupaix.
Joint account options
If you're uncertain if your child is ready to have their own checking account, add yourself as a joint account owner. That way you will have complete access and knowledge of how your child is managing the account. Plus, you can offer suggestions if you see ways they can improve.
Financial goals
Once you have chosen the right account for you and your child, the real money decisions begin. First, determine how you want your child to use the account, advises Forbes contributor Ben Gran. Is there a certain percentage from their allowance they need to deposit each month? Are they saving money for something special like a computer or bike? Are they responsible for funding certain perks like having a cell phone?
Checking account logistics
Although many people do not write out physical checks very often anymore, it is still a skill your child should have. Explain how to fill out a check and record the transaction in the account register. If your child receives a check as a birthday or holiday gift or from their place of employment, show them how to endorse the check, fill out the deposit slip and complete the transaction with the tellers at the bank. Or, download the Waukesha State Bank mobile app, and investigate the mobile deposit feature.
Speaking of mobile…online and mobile banking functionality will no doubt be part of your child's checking account use. Once they're enrolled, you can help them investigate all the online and mobile features available with the account.
In addition, teach your child how to read their bank statement and stress the danger of overdrafts. Finally, if you are allowing your child ATM privileges, walk them through the transactions they can complete, the amount they are allowed to withdraw and how to safely use the machine.
Free Student Checking at Waukesha State Bank
At Waukesha State Bank, our Free Student Checking Account* is designed for kids under the age of 26, with a parent or guardian required as a joint account owner if the child is under 16 years of age. This account is a great way for teens and college students to learn how to manage their own money, how to use a debit card wisely, monitor their accounts with online and mobile banking, and even pay bills online. Visit our Free Student Checking Account page to learn more or to open an account online.
A checking account offers your child an active role in their financial future. It serves as a secure way for your child to save money while also providing them a lesson in balancing what they save and what they spend. And, don't forget that our bankers are always here to help.

* For students under age 26. A parent or guardian is required as a joint account owner for students under the age of 16. Terms and fees are subject to change at any time. Free accounts may be subject to fees such as ATM, early closing, overdraft and bill pay services.