Home Equity Loan vs. Line of Credit
February 2022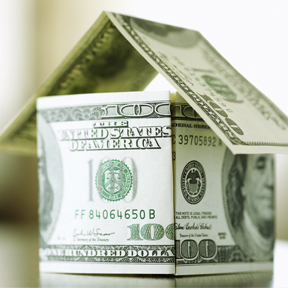 If you're looking to make home improvements, finance college tuition, or consolidate debt, you may have considered borrowing against the equity in your home. This can be an affordable and convenient way to get the money you need. If you do have the equity in your home to capitalize on home equity borrowing, you'll need to make a decision: Do you choose a home equity loan or line of credit?

The answer really depends on your needs and how you want the money to be paid to you. If, for example, you're looking to get your money in a lump sum to make a one-time purchase, such as the purchase of a new car, a home equity loan may make sense for you. However, if you want some flexibility to use the funds again and again (similar to a credit card), a line of credit may make more sense.

The predictability of a home equity loan.
Home equity loans offer unique benefits. First and foremost, they offer you the ability to lock in a fixed rate for an extended term, or even the life of the loan, giving you the predictability of fixed monthly payments that make budgeting easier. With a home equity loan, you have a specific term and know in advance when your loan will be paid in full.

The freedom of a home equity line.
A home equity line works a little differently. It's a revolving line of credit designed for borrowers who want the flexibility to borrow over and over again. And, unlike a fixed-rate loan, the rate for a line of credit is variable based on the Wall Street Journal Prime rate plus or minus some factor, such as Prime + 1%. Click here for Waukesha State Bank's current rate. As a result, your interest rate may increase or decrease depending on changes to the Prime rate.

One of the biggest benefits of a home equity line is that it works similarly to a credit card. When you make payments, you can borrow funds over and over again. This makes it ideal for financing ongoing expenses, such as college tuition payments and home improvements. In addition, you can borrow any time you need to simply by writing a check or making transfers online.

We're here to help.
If you're wondering which home equity solution is right for you, it really depends on your goals. Rest assured, our Personal Bankers are here to help you figure out which option is best for you. Plus, whatever option you choose, you'll enjoy these benefits at Waukesha State Bank:
No teaser rates
No gimmicks
No closing costs
Multiple payment options
Programs up to 105% of your home's value*
Feel free to stop by any of our offices or call us today to discuss your unique needs.
*The interest on the portion of the credit extension that is greater than the fair market value of the dwelling is not tax deductible for Federal income tax purposes. Consult a tax adviser for further information regarding the deductibility of interest and charges. Other conditions or restrictions may apply.