Tips for Choosing the Right College
March 2022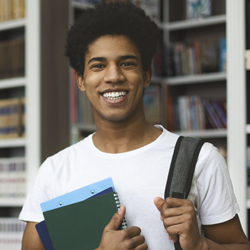 You've got a lot of decisions to make — between choosing a major and applying for scholarships, you also have to choose the right educational institution for your needs. While this can be an overwhelming process, you can make it easier by putting your financial and educational goals at the forefront. Here are some tips for choosing the right college for both your needs and your budget.
Community college savings
If you're strapped for cash — or simply wish to accumulate a minimal amount of student debt — you can save thousands by taking your general education classes at a community college, and then later finishing your degree at a four-year school. In addition to saving money, The Princeton Review notes that a community college won't necessarily compromise the quality of your education. That's because these schools offer small class sizes, mentorship opportunities, and professors who focus on teaching, not publication or research. And, when it's time to finish your degree at a four-year institution, your hard work may pay off in the form of a scholarship to your new school. That said, be sure to do your research before you sign up for classes. The Princeton Review suggests meeting with advisors from both schools to work out a plan that will allow all of your credits to transfer.
Crunch some numbers
In addition to opportunities and the quality of your education, it's important to consider tuition costs and financial aid when picking your school. To calculate what you can afford, look at tuition estimates on the school's website and find out about the starting wages of your future career field in the Occupational Outlook Handbook, available via the U.S. Department of Labor. Once you have a ballpark estimate of your future salary, try to keep your monthly student loan payments below 10 percent of that figure. For example, if your future salary is $3,000/month (or $36,000/year), try to keep your monthly student loan payments below $300/month ($3,000/month x 10%). You can also check out a student loan affordability calculator to help you predict your future payments.
Campus life
When choosing a college, consider your priorities. Is it crucial for you to live on campus? If not, you may want to look into a local school or community college, which would help you save thousands by avoiding room and board costs by commuting from your family home or apartment. Even if you don't live in the middle of the action, you can still immerse yourself in on-campus activities, clubs, and study groups. However, if living in the dorms is an essential part of your ideal college experience, an in-state four-year institution may be a financially savvy choice, since out-of-state schools often charge significantly higher tuition rates to non-residents.
Consider employment opportunities
In addition to helping you save thousands of dollars per year on room and board, a local commuter-friendly school may enable you to take classes part-time, so you can hold a job while you earn your degree. According to The Princeton Review, some four-year institutions don't allow part-time schedules, so if you need to support your family or want to bolster your income while in school, keep this factor in mind when picking a college. However, if you're looking to gain work experience in your future career field, look for a school that's known for internship and research opportunities. These programs are most often found at four-year institutions.
To sum up, picking the right school is vital to your education and your budget. If you have questions about what school is right for you, do your research. Talk to your parents, or people you know that are already in college, especially if you know someone at the schools you're considering. You can also visit college open house events and speak with both admissions officers and advisors at the schools.