The Pros and Cons of Paying Off Your Loans Early
November 2023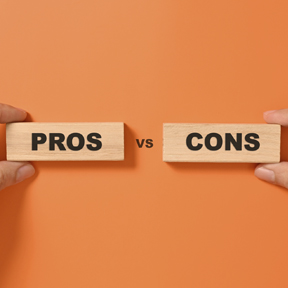 Debt can complicate your finances. If you're looking to streamline your finances and build a more secure foundation for your financial future, you may want to pay off your loans ahead of schedule. However, like all financial decisions, this strategy comes with benefits and drawbacks. Here's what you should consider before paying off your loan early.
Save money on interest
When you make a payment on your loan, your money doesn't just pay down your balance, it also goes towards interest. When you pay off your loan early, you'll be cutting down on the amount of interest you pay over the life of your loan. These savings can be particularly pronounced if you have a high interest rate loan, explains Forbes contributor Casey Bond.
Peace of mind
In a U.S. News and World Report article by Chris Kissell, credit guru Gerri Detweiler drew a direct line between having less debt and enjoying greater peace of mind. That's because loans can be more than a strain on your budget — they can also be a source of stress in your daily life, especially during times of upheaval. By paying your loan off ahead of schedule, you won't have to worry about making payments if you experience a major unexpected life change, such as divorce, loss of employment, or an unexpected catastrophe.
Credit score
Investopedia author Chris B. Murphy explains that your creditworthiness is heavily influenced by your debt-to-income ratio. So if you're looking to boost your credit score, paying off a loan early can help. And with a better credit score, you may find it easier to secure a loan for your next big purchase.
Prepayment penalties
Before paying off a loan early, make sure to read your loan agreement and look for any "prepayment" fees or penalties. While Waukesha State Bank does not charge prepayment penalties on our consumer loans, some lenders do. So be sure to brush up on the fine print of your loan before you decide to pay it off early.
Less discretionary spending money
Whether you're paying off a loan with a lump sum or you plan to chip away at it with larger payments, paying off your loan faster will likely mean tightening up your budget. Consider where you'll get the money to pay off your debt — is it being diverted from your retirement savings plan? Or is it coming from the money you budget for entertainment and dining? If you have to choose between investing the money or paying off bills, Bond suggests that you compare your loan's interest rate with your return on investment. If your return on investment outweighs the interest rate on your loan, Bond explains that investing may be the better way to grow your money.
Paying off debt early can be a major win for your finances, but it may not be for everyone. For advice tailored to your budget and life situation, consider consulting one of Waukesha State Bank's financial planners.