The Difference Between Subsidized and Unsubsidized Student Loans
June 2021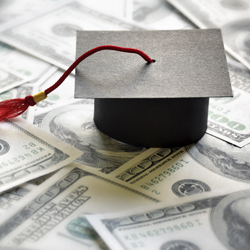 The cost of tuition, books, room and board (if applicable) add up quickly, leaving you despondent about how you will pay for school. Even with scholarships and grants, your bank account may fall short of what is due, forcing you to apply for student loans. Loans afford you the education and degree you want, but loans also come with varying degrees of interest, benefits and negatives.
Here is how subsidized and unsubsidized loans from the U.S. Department of Education differ.
Loan qualifications
Whether you choose a subsidized or unsubsidized Federal Direct Loan from the U.S. Department of Education, you must fulfill specific criteria. According to Investopedia writer Rebecca Lake, the school you choose to attend (at least half time) has to be enrolled in the loan program. U.S. or eligible non-citizen status is required along with a Social Security number. If you have existing federal loans, you must be in good standing and have completed high school and earned a diploma or an equivalent. You must also prove academic progress. Male students have to register with the Selective Service if they are between the ages of 18 and 25. The Free Application for Federal Student Aid (FAFSA) covers both subsidized and unsubsidized loans.
Subsidized student loans
If you are pursuing an undergraduate degree, you can apply for a subsidized loan. You must prove your financial need. You will be limited in the amount you can borrow, but interest on a subsidized loan is covered by the Education Department while you are a student, according to NerdWallet writer Anna Helhoski.
The government will also pay the loan's interest for six months after you leave school, adds Lake.
You can also apply for a loan deferment (up to three years). During the deferment period, you will not be responsible for interest payments, according to Investopedia writer Jim Probasco.
Unsubsidized student loans
A Direct unsubsidized student loan is available if you are planning to earn an undergraduate, graduate or professional degree. Unlike subsidized loans, you do not have to prove your financial need to be eligible for an unsubsidized loan, which offers higher limits compared to subsidized options, reports Helhoski.
"The loan limit for the entire time you're enrolled is $31,000 for dependent undergraduate students. The limits are $57,500 for independent undergraduate students and $138,500 for graduate students, who are considered independent," she adds.
The higher limit offers more financial assistance and allows you to achieve more advanced degrees, but it comes at a higher price in terms of interest.
"Interest begins accruing as soon as the loan is disbursed, including while students are enrolled in school," according to Helhoski. "Loan payments are not due in the first six months after you leave school, but interest will continue to build. It will then capitalize, meaning it's added to the original amount borrowed."
Both federally mandated subsidized and unsubsidized loans have pros and cons. Before you choose, evaluate both options critically so you can pursue your degree without stressing too much, over how you will pay back the loan after graduation.