Prevent Elder Abuse: Signs and Tips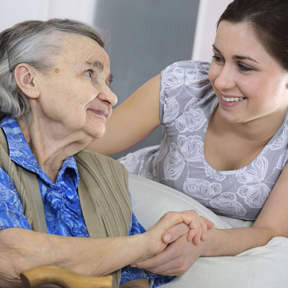 August 2022
No matter how careful you are, anyone can become a victim of financial fraud. However, older adults are particularly at risk. Those who commit elder fraud range from loved ones—family members, friends, or caregivers—to complete strangers. In its financial form, elder abuse is the exploitation of senior citizens to gain access to their property, investments, cash, or real estate.
Red Flags for Abuse
Isolation – The number one tactic used by perpetrators is to separate the victim from family and/or friends who would stop the abuse. Watch for victims to stop attending social events or even disconnect their phone line.
Changes in spending habits – Drastic changes in account balances or unusually flamboyant purchases like cars and real estate are a sign that the senior citizen is not the person in charge of their finances. Keep a close eye on lavish "gifts" to new friends or acquaintances.
Unfamiliar names on joint accounts – Sometimes perpetrators convince their victims that they will help them organize their finances by creating a joint account. In reality, this gives the perpetrator unlimited access to the victim's funds. If a senior citizen wants another person to manage their finances, they should use a Power of Attorney (POA) account instead, which puts a legal obligation on the co-signer to protect the elderly person's interests.
If you notice these warning signs, what should you do about it? Visit
ReportElderAbuseWI.org
for more information about elder abuse and how to report it. You can also visit our
Security Resources
page to learn more about scams and ways to protect yourself.
Tips for preventing scams
If you're part of the senior demographic, it's important to stay on your guard against these scams. The NCOA recommends signing up for the Do Not Call list, carefully researching all unsolicited offers and reaching out to trusted friends or relatives if you need assistance. You should also avoid giving out personal information (like credit card, Medicare or Social Security numbers) over the phone unless it's a call you initiated yourself.
If you're looking to protect the seniors in your life from scams, Consumer Reports suggests several ways to help. Calling or visiting regularly will allow you to keep tabs on their safety. You can also take steps to stop or limit unsolicited mail and phone calls. You may even be able to arrange protection or oversight for important financial accounts.
Financial scams represent a significant threat for seniors. However, by taking the proper precautions and cultivating awareness, you can shield yourself or your loved ones from those who seek to victimize them.
At Waukesha State Bank, our bankers have been trained to recognize the red flags of elder financial abuse for the safety and wellbeing of our customers. In the past, we've helped navigate a confused customer suffering from dementia and caught in an internet scam, as well as another distressed customer simply adjusting to life after the death of a loved one. Whatever the situation, if you find yourself confused over your account or are concerned about an elderly relative, we're here to help. Visit your local Waukesha State Bank office of call our Customer Service Center at (262) 549-8500.