February 2021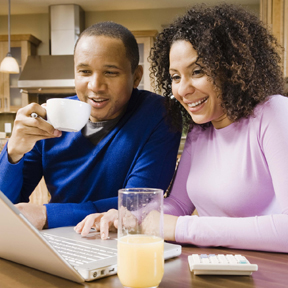 In these challenging times, you may not feel as comfortable visiting the bank. A great way to stay on top of your financial needs without the risk of going out is with online and mobile banking. This convenient service makes it simple and safe to do everything from checking balances, transferring funds, depositing checks, paying bills and even sending money to a friend.
Why go online?
There's so much that you can easily do online in today's world, and that includes managing your finances. According to Investopedia's Jake Frankenfield, the biggest advantage of online banking is convenience. You won't have to get into your car and drive to a building or wait in line for your turn — you can perform these actions instantly any time of day or night, including holidays.
Another benefit is being more aware of how your money is working for you. You can log in multiple times a day to monitor pending transactions and keep tabs on your balances, which allows you to react more quickly when there's unexpected activity. By checking your accounts regularly, Frankenfield notes that you can better protect yourself from fraudulent activity and minimize the damage done.
How to take advantage
The first step is to enroll in online banking, which is called VaultLink at Waukesha State Bank. Simply gather your account numbers from your statements, click here to enroll and complete the enrollment form. You will need a username and password, and the latter should be something that's unique and strong. Avoid incorporating personal information, common phrases like password or consecutive numbers like 1234. Additional settings like a security question and two-factor authentication further protect your account from fraudulent access.
Once you've set up your account, feel free to watch the VaultLink Demo that will walk you through how to use the website. Take the opportunity to familiarize yourself with the interface and what you're able to do. And if you have any questions, our Customer Services Center is always here to help. Give them a call during normal banking hours at (262) 549-8500 or click here to chat with them online.
What can you do?
You can do most everyday financial activities online, including checking your account balances. You can also set up automatic notifications to notify you whenever money goes in or out of an account or if it falls below a certain balance. Plus, as you become comfortable with online banking, you can choose to go paperless and receive your monthly statements entirely online.
Depositing checks online is also a common feature that's quite convenient. You'll need a smartphone with a camera and the bank's mobile banking app, which will tell you how to authorize the check and what steps to take. There is also a demo for mobile banking and mobile deposit as well. After you submit the photo of your check, hold onto it for a few days to make sure there are no problems and then destroy it when the money has cleared.
If you have multiple accounts, like savings and checking, you can use VaultLink, our mobile banking app to transfer money between them. These transfers are usually instantaneous, which can be very helpful in a moment of need. You can also pay loans at Waukesha State Bank and sign up for Online Bill Pay, which allows you to pay bills all from one place, some of which can be scheduled to be processed on the days you choose. Last, you can easily link your checking account to apps like Venmo® to make person-to-person payments so you can send money to a friend, no matter where they bank. Check out our person-to-person payments guide for more information.
Online and mobile banking is convenient in any situation, and it's particularly helpful in the face of today's difficulties. To learn more about Waukesha State Bank's online banking services, click here.