Monitoring Your Credit Report
August 2021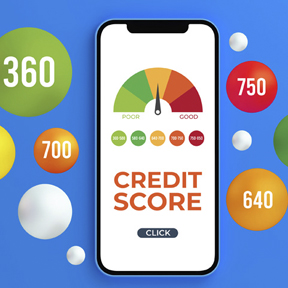 Your credit report holds plenty of valuable information. It can help you understand your spending habits, lend insight into your creditworthiness, and perhaps most importantly, it can enable you to monitor your accounts for fraud. Here's a look at a few different strategies for watching your credit report — and what you should do if you notice suspicious activity.
Monitoring your credit
If you like to take a hands-on approach to managing your finances, consider doing your own credit monitoring. This involves manually reviewing reports, combing through each charge, and making sure that every transaction is legitimate. While this method may help you become more aware of your spending habits, it can also be a time-consuming process.
If you don't want to scrutinize your charges line by line, you can opt for a free or premium tracking service. Typically, these free services only work with one of the three credit bureaus. For instance, CreditWorksBasic only provides data from Experian, while CreditWise offers information from TransUnion. Furthermore, they typically only provide basic data, such as your utilization rate, payment history, and VantageScore 3.0 number. For more-detailed information and your FICO score, you'll have to sign up for a paid service. But you don't have to break the bank to track your credit usage. Brendan Harkness, the managing editor of Credit Card Insider, suggests combining DIY credit monitoring with a free service, so you can enjoy the reassurance of having an extra set of eyes on your financial activity.
Spotting problems on your report
Pay attention to the details provided on your credit report. Make sure that your payment history is correct; you don't want to be unfairly penalized for late payments that were actually made on time. Ensure your account balances are accurate, and that all of the accounts listed are ones you've opened. Also, check for any hard inquiries that you didn't make, along with accounts that were wrongly sent to collections. If you notice errors like these, Harkness advises contacting the credit bureau about the error — most of the time, they'll work with you to correct it. However, if the mistakes are actually the result of fraud, you'll have to take additional steps to secure your finances.
Reporting identity theft
If you notice suspicious charges on your credit report, you'll need to notify the relevant authorities. Jake Stroup, a credit card monitoring expert and contributor to The Balance, recommends first filing a police report, then following up with a report to the Federal Trade Commission. When it's time to fill out the police report, Stroup advises reporting as much detailed information as possible, including the dates of the purchases relevant to the fraudulent charges, as well as all known details about the accounts opened using your identity. Also, be sure to list anyone whom you believe to be involved in the identity theft, if possible. When filling out your complaint with the FTC, Stroup recommends referencing the police report you previously filed.
To prevent further breaches, Harkness suggests freezing your credit or adding fraud alerts to your credit report. Freezes stop criminals from using your identity to secure additional credit, but also prevent you from opening new accounts. Fraud alerts, on the other hand, give you an extra layer of security when applying for credit.
Don't let fraudsters steal your hard-earned money — monitor your credit report to safeguard your finances. You can request a free credit report (once every 12 months) at
www.waukeshabank.com/free-credit-report
, and be sure to
notify us ASAP
if you notice something on your credit report that shouldn't be there. Our bankers can help walk you through the process of getting it fixed and answer any questions you may have.