Holiday Shopping on a Budget
September 2022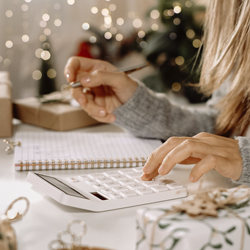 You may not be thinking about the holidays just yet, but they'll be here before you know it. The holidays should be time for celebration and generosity, not for draining your savings or accumulating credit card debt. By sticking to a budget and following these simple strategies, you can give meaningful gifts while staying within your financial means.
Create a budget
Donna Montaldo, contributor to TheBalance.com, advises that you make a spending budget before the holiday season hits. Make this an informed amount, based on what you can truly afford to pay.
Make a list
Next, make a list of everyone you want to buy presents for along with a certain amount you would like to spend on each person. This will help you stay within your allotted budget.
Avoid using credit cards
Leave your credit cards at home to avoid racking up debt while shopping, and use your debit card instead. This way, you won't be tempted to spend beyond your means, and you won't have to pay interest on your purchases.
Start saving early
Start your holiday spending fund as early as possible so that when the holidays approach, you will already have a surplus to tap into. Consider setting aside $30 a week starting two to three months before the holidays. Or, open a Christmas Club account at Waukesha State Bank and save all year long!
Compare prices
Research prices before purchasing any gift. If you're shopping in person, use your phone to check online to see if there's a discounted price if you order an item online. You can also check prices of that item at similar stores.
Re-gifting
Another affordable option to stay within your budget this holiday is to re-gift an item that you received but don't use or need. Make sure the gift is new and wrap it in an attractive package to give it a fresh look.
Go homemade
Browse online for simple gift ideas that you can make yourself. For example, visit the dollar store to purchase candy or nuts that you can package in mason jars and wrap with festive bows. Or, handmade items, such as cookies or homemade bath salts can be wrapped in inexpensive holiday tins or small jars as well.
Rethink gifting
It can be easy to overspend on the people closest to you. Instead, give the gift of quality time this year – plan a trip or a special night out – and avoid focusing on material possessions as gifts.
Say "no" to holiday guilt
You don't have to buy an item for every acquaintance you know. However, most of us have received a gift from someone we weren't planning on buying for. Instead of feeling guilty, be prepared. Either talk to those people ahead of time and tell them you're only buying gifts for certain people. Or, stock up on some inexpensive gifts so you have one if you need one. And sometimes, a simple card with a thoughtful, handwritten note can mean more than any gift you'd give.
Stay within your budget by applying these practical suggestions for giving affordable holiday gifts this season.