Give Your Patio Furniture New Life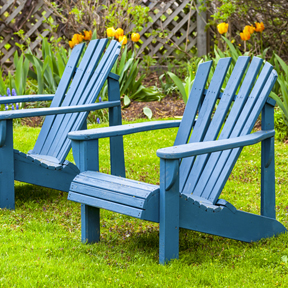 August 2020
It's a sad truth of life that even the most beloved furniture will eventually begin to show its age. This is doubly true for patio furniture, which, even under the best of circumstances, is exposed to the elements far more than a living room couch. Thankfully, there are a few easy ways to give your patio furniture a makeover, saving you money and the hassle of finding somewhere to dispose of a heavy table.
Refinishing wood
If you've got wooden outdoor furniture that could use some attention, there are plenty of methods. The most labor-intensive is to sand down the surface and apply a water-resistant stain or lacquer. This will get rid of uneven or splintering surfaces and protect it against the elements in the future.
If you want to try something with materials you probably have around the house, though, you're in luck. For instance, you may be able to correct small gouges in the varnish with clear nail polish, restore its original color and shine with coconut oil, olive oil and vinegar, and maybe even fade water rings with mayonnaise. If you choose any of the more fragrant options, it may be a good idea to clean the surface thoroughly afterward to avoid attracting insects.
Removing rust
Not only is rust unsightly, it's highly abrasive and can even cause tetanus. So, it stands to reason that you'd want to remove it from your patio furniture post haste. If you managed to catch it early on, it's pretty easy to use a household cleaner and a cloth to scrub it off. If things are a little further along, you can use some slightly more caustic — but still extremely commonplace — substances like baking soda mixed with hydrogen peroxide, vinegar mixed with salt or just some dark brown cola. With these methods, make sure you leave the mixture on the surface for a while before cleaning it off.
Refreshing plastic
Plastic lawn chairs may not be the most elegant of all outdoor furniture, but their affordability and nearly infinite lifespan make them wildly appealing. However, just because your plastic patio seats look a little bit dirty is no reason to toss them to the curb and buy another set. For everyday dirt, you can take a hose to them. For more intense discoloration, you can opt for a quick power wash, or use a rough, wet sponge sprinkled with baking soda to scrub away the embedded dirt. If you want to restore that fresh-from-the-store shine, you can apply an inexpensive wax similar to what you'd use on your car. If you prefer the nuclear option, there's always a bleach mixture that will wash away even the toughest stain.
Replacing the small parts
Many pieces of patio furniture come with weather-resistant cloth components to make them more comfortable and visually appealing, but they tend to take the brunt of use and weather wear. If you've got a chair or loveseat that you tend to avoid because of its dirty, stained or otherwise damaged cushion, you can simply replace the slipcover to completely refresh its look. Similarly, if the umbrella attached to your patio table is ripped or bent, replacing the material or the whole umbrella is almost certainly more affordable than getting an entirely new set.
There are few things more enjoyable than relaxing on your patio on a warm summer evening, and you should be able to do that in complete comfort. If you utilize these tips, your outdoor haven will look and feel as good as new in no time.