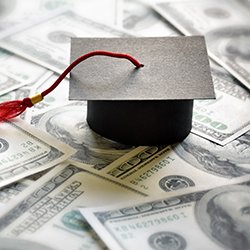 August 2020
A college education can help you secure a sounder financial future. Yet securing that education often comes at a very high cost. Financial aid can help alleviate some of that cost, and it can come from a variety of different sources, depending on what works best for your needs.
FAFSA
The most common means to acquire financial aid is through the Free Application for Federal Student Aid (FAFSA). FAFSA is the federal financial aid initiative by which students receive funding from government-issued loans and work-study programs.
According to the U.S. Department of Education, most incoming college students are eligible to receive financial aid through the federal government, regardless of their age, race or field of study. However, income is taken into consideration, with lower-income students generally receiving more funding than higher-income students. Other qualifications for federal funding include enrollment as a regular student, possession of a high school diploma or General Educational Development certificate and registration with Selective Service for male students.
Federal funding acquired via the FAFSA application must be used for educational purposes. Experts suggest that you submit a FAFSA application as soon as possible, as the amount of aid that the program can offer is awarded on a first-come, first-serve basis.
Private student loans
The federal government isn't the only entity to issue student loans. Teddy Nykiel of NerdWallet explains that private lenders can also offer loans to college students. A benefit of private student loans is that they are far less restrictive than government-issued loans. You may not have to match the same requirements as those put in place by the federal government, and you can use them for finances outside of the educational realm, such as room and board.
Scholarships
Before applying for student loans, you should consider applying for scholarships. Unlike student loans, scholarships do not need to be repaid. Katie Lobosco of CNN says they are awarded by private entities like nonprofit organizations, community groups, companies, private citizens, and even the university itself. Scholarships are also harder to obtain than loans or financial funding, according to Robert Farrington of Forbes. Most scholarships are merit-based, and many who apply for them do not end up receiving them.
As with the FAFSA program, the sooner you apply for scholarships, the better. Even though you can still receive scholarship funding during your college years, most students are awarded scholarships while they are still in high school. Money Magazine recommends you apply for various local scholarships prior to graduation.
Every year, Waukesha State Bank offers twenty $1,000 scholarships to Waukesha County high school students attending Carroll University. For details and to apply, visit https://www.carrollu.edu/financial-aid/undergraduate-scholarships/waukesha-state-bank.
Grants
Another common financial option is to apply for grants. In a similar vein to scholarships, grants do not have to be paid back. While scholarships are generally merit-based, grants are generally based on financial need. Farran Powell of U.S. News states that most federal grants are applied for via your FAFSA application. Grants can also be awarded by the state or county government. According to Lobosco, private colleges tend to provide you with more money through grants than their public counterparts, as tuition is generally higher there than at public universities.
Whether you receive the financial aid you need through federal programs, loans, grants or scholarships, these sources of funding can help you invest in your career.