Film Scores to Listen to While Studying
September 2021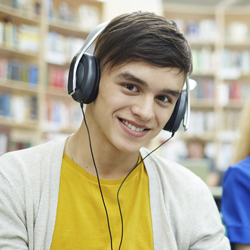 Listening to music can be an effective way to focus your thoughts while studying or working on a project, but it has to be the right type of music. If vocals are too much of a distraction, an instrumental film score might be just what you need. From propulsive energy to restful background ambience, these seven diverse soundtrack recordings are sure to give your brain a boost. Each one is available to stream, download, or purchase on CD or vinyl.
"Anatomy of a Murder" (1959)
Legendary composer Duke Ellington and his sidekick Billy Strayhorn really outdid themselves with this smoky, swaggering jazz score. In fact, it's highly respected as an album in its own right apart from the (very good) movie that it soundtracked. On these tunes, Ellington's big band alternates between hard-swinging jams and blues-heavy ballads, calling forth a delicious atmosphere of shadows and seductive danger.
"The Good, the Bad and the Ugly" (1966)
Composed by the masterful Ennio Morricone, this "spaghetti Western" soundtrack contains some of the most iconic movie music of all time. Even away from the screen, the score's twanging electric guitars, otherworldly sound effects, and sweeping orchestration conjure vivid images of sunbaked deserts, rugged vistas, and tense showdowns.
"Raiders of the Lost Ark"
John Williams is perhaps the most significant film composer of the past century, and this score is one of his very best. Filled with a sense of suspenseful peril, grand adventure, and good humor, it's an epic good time that will keep you energized and alert while you're hitting the books.
"Blade Runner" (1982)
With its eerily romantic synthesizer soundscape and echoing percussion, this score by Vangelis evokes nostalgic vibes of the 1980s and strange visions of a dystopian future. And if it sounds somewhat familiar, that's because it's also one of the most influential film soundtracks of all time.
"Crouching Tiger, Hidden Dragon" (2000)
The soundtrack to Ang Lee's groundbreaking martial arts film stands on its own as a beautiful achievement. With the help of Yo-Yo Ma's ravishingly gorgeous cello, composer Tan Dun draws from Chinese traditions and Western classical influences to create a unique synthesis of sound that's both thrilling and reflective.
"The Lord of the Rings" (2001-2003)
Whether you adore fantasy with all your heart or have an allergic reaction to elves and magical quests, Howard Shore's soundtrack to the beloved "Lord of the Rings" trilogy stands alone as an inspiring, immersive work of art. Weaving together vast orchestral epics, darkly compelling themes, and intimate fiddle-and-flute interludes, this score presents an unforgettable melodic tapestry.
"It Follows" (2015)
All jagged synths, pulsating rhythms, and creeping dread, this hair-raising horror-film score by the electronic composer Disasterpeace is one you may not want to put on right before you turn out the lights. But if you're trying to stay awake for an all-nighter, it makes for a highly effective shot of adrenaline.
Whatever you're studying, queue up one of these outstanding film scores. Listening to soundtracks is a great way to find the motivation and mental stimulus you need to concentrate.