Expert Packing Tips So You Can Travel With Less
March 2023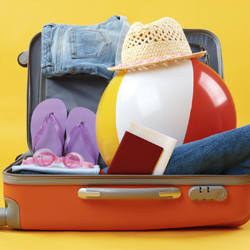 Packing light can have a tremendously positive impact on your travels. Compared to hauling around one or more heavy bags, carrying just a single lightweight carry-on or backpack comes with many benefits. It's less physically tiring, you don't have to deal with checking in at the airport and waiting for luggage at your destination, it's easier to access and keep tabs on your belongings, and generally more convenient to get around. But when preparing for a big trip, it can seem difficult to pack light. So how do you do it?
Research your destination and make a list
What you need to pack depends on your destination. It's unlikely that you'll need a thick coat while visiting a beach town or swimwear while hiking in the Himalayas. Knowing exactly what you'll need to bring and what you can find locally can help you cut down on dead weight.
Plan on doing laundry
For any trip lasting more than a week, the number of items you pack should remain about the same regardless of how long it will be before you return. Even if you plan to be gone for an extended period, there's no need to bring your whole wardrobe. Pack just enough to have seven days' worth of clothing and have a plan for doing laundry.
Pack items that perform double duty
Instead of packing two pairs of shoes for different occasions, try to pack a single pair that does both jobs. While not particularly stylish, convertible pants are exceptionally practical, easy to clean, and quick to dry. Instead of bringing a sweater just in case of chilly evenings, pack a scarf or other neckwear to stay warm, which takes up less space. These are just two examples, but when you're willing to favor practicality over style, countless possibilities open up.
Choose neutral clothing styles
Just because you're packing light doesn't mean you can't look good. One way to stretch a week's worth of clothing and ensure you always have a neat fit is to stick with a simple color palette. Darker colors are recommended as they look cleaner for longer and can appear just as appropriate during an outdoor trek as during a nice dinner.
Leave most toiletries at home
If there are non-clothing items you need during your travels, consider getting them at your destination instead of bringing them with you. Your hotel, rented apartment, or guest house may already have shampoo and lotion. Bring only travel-sized versions of the toiletries you absolutely need every day, such as contact lens solution and toothpaste, and buy the rest on location if needed. Instead of bringing a whole array of makeup and skin care items, visit any department store beauty counter and ask for samples.
Cut down on shoes and accessories
Shoes take up quite a lot of space. For most trips, two pairs of shoes should be more than enough: a pair of sturdy, comfortable walking shoes and a pair for a nice night out, if your plans call for it. Accessories also take up unnecessary space. Depending on where you are headed, sunglasses may be non-negotiable — but do you really need more than one pair?
Traveling light is all about taking on a minimalist philosophy toward your belongings. Cut out items you don't need, bring clothes you can use for more than one purpose, limit yourself to just one week's worth of clothing, and have a plan for washing clothes and purchasing toiletries at your destination. By following these tips, you should be able to travel just about anywhere with just a single carry-on bag.

Prepared by Broadridge Advisor Solutions Copyright 2023.