College vs Trade School vs Entering the Workforce
September 2021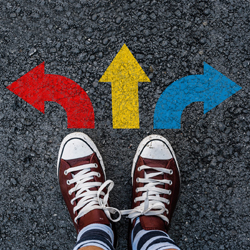 What you do after graduating high school is a serious, personal, and complicated decision. You might automatically think college is the way to go, but then you calculate the time and money a college education requires and your sure thing doesn't seem so sure. Trade or vocational schools offer certification and training in a variety of fields, offering you a quicker path to employment and independence. But, you worry you won't find satisfaction in one of their programs or feel like you missed out on a more comprehensive, traditional-school education. Or, you may decide that more schooling isn't for you and enter the workforce right away. Whichever path you take, here is a closer look at each option.
If your passion aligns with college
Colleges offer a long list of majors, much more diverse than the programs available at trade schools. This means you have more choice for your academic pursuits. And, if you are unsure about what you want to study or what major to declare at first, college allots time to take electives and introductory courses designed to expose you to different worlds. You might find your passion is computer science even if you have never studied it before. On the other side, you may go into college with a solid plan only to discover your chosen major is a bust. If you want the opportunity to earn advanced degrees, like a masters that will propel your career or help you get your dream job, you will need to first earn your undergraduate degree at an accredited college or university.
If you are ready to work but need some specialized training
Earning a bachelor's degree at a traditional college or university typically takes four or five years, depending on the area of study. Earning a certification, diploma, or degree from a trade school typically takes half that time. The shorter program requirements at trade schools mean you will be a moneymaking member of society and the workforce quicker compared to college graduates, according to Indeed.com. In addition, you will feel more prepared for your first job. During your education at a trade school, you will not only learn in the classroom, but you will also have opportunities in the real world. Apprenticeships and practical courses are available at some trade schools, adds Indeed.com.
If you want to save money
The cost of a four-year college or university education is staggering. There is no denying that the cost of tuition, housing, and books are major deterrents for students. The cost of study at a trade school in comparison is much less than what you would spend on a college education. Even if you needed to finance your trade school education with a loan, most likely it would be much less than one needed for a college or university. A lower loan means less interest and less time paying it off, too.
"If you're pursuing a trade certification or occupational associate's degree, look to public colleges for the best deals. Public two-year schools, such as community colleges, had the lowest annual tuition and fees at $3,600 as of 2017-2018. Public colleges with programs shorter than two years have the second-lowest costs, averaging $7,437 per year," according to The Balance writer Elyssa Kirkham.
Of course, you can save all of that money by entering the workforce right away.
If you're ready to enter the workforce after graduation
If neither college nor trade school are right for you, there are plenty of employers out there that are willing to train people right out of high school. You may be limited to jobs in the retail and food service industries at first, but good workers can move up quickly and establish a career. In fact, that can happen right here at Waukesha State Bank. We are strongly committed to a promote-from-within philosophy, and we focus on providing a comprehensive training experience for new employees that not only trains them on their own job responsibilities but broader financial industry topics as well. Check out our
employment opportunities
page for more information and to see what positions are available.
Whether you choose to attend college, enroll at a trade school or start working right away after high school, be sure to do your homework. If you decide to go continue your education, research the school, the program, and the costs to determine what option serves your educational goals, finances, and interests. If you decide to enter the workforce right away, look for companies in fields that interest you, research the company and find out what job positions they have available.