Budgeting for a 2021 Big Vacation?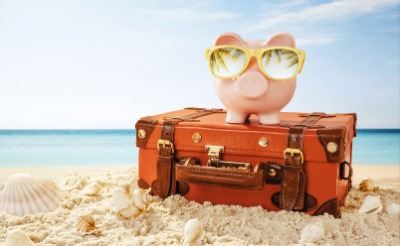 August 2020
Want to take a big trip once it's safe to travel but don't think your bank account can support it? Effective budgeting can help you plan and save the money for a vacation even when finances are tight. Regardless of where you want to go, here are some tips for budgeting for a fun escape.
Be flexible with your expectations
When you're deciding where you want to go for your adventure and what you can do there, have a practical plan for what you can afford. Pick somewhere you would enjoy visiting, but don't pick a destination too lofty for your budget.
"If you're struggling to reach your finance goals, being flexible with your trip itinerary can help get you on that flight a lot faster," recommends George Dunford of Money Planet. Don't automatically pick the most popular or exotic destination for your travels; choose a place you know you'll enjoy visiting and can afford. That will make budgeting much easier.
Add it all up
Properly budgeting for your trip starts with a complete idea of all the expenses you'll need to pay. Create a comprehensive list of costs, including travel, accommodations, meals, transportation, gas, souvenirs, activities, admissions, tolls and tips. Don't omit any possible expenditures. This will help you determine how many days you can afford to be on vacation and how much money you need to save.
Compare this amount to your monthly income and regular expenses to see how much you can start setting aside every month. "By looking over your current personal budget and taking your savings, fixed expenses, and variable costs into consideration, you can see where you have a little wiggle room (if any) for a vacation," explains Jacqueline Curtis of Money Crashers.
Keep yourself motivated
It can be hard to motivate yourself to cut current expenses and save money for a vacation when the trip isn't on the forefront of your mind. Keeping your mission within view every day compels you to cut frivolous daily splurges like high-end lattes, full-price movie tickets and eating dinner out.
"Once you've worked out how much you need, you've then got a figure you can save towards," says Dunford. Some people make this number their screensaver or put it on their fridge, using this saving goal as motivation to go to work everyday."
Pay for some expenses now
Instead of putting off the entire bill until the trip, begin paying for some expenses ahead of time. This will spread the expenses out over the upcoming months instead of hitting your wallet all at once.
Many hotels give discounts on hotel rooms if you pay now when you book them. Buy gift cards for the restaurants you want to eat at and gas stations you'll fill up at. Purchase excursion or admission tickets online, and sign up for email notifications to hear when they're running sales. Look at merchant discount sites like Groupon to save on the places you want to go. If you're able to pay with a travel rewards credit card, you can earn money back via cash rewards.
Other ways of lowering expenses
The best way to help you achieve your target travel budget is to lower that amount. Curtis recommends a handful of other ways you can curb vacation expenses, like staying with acquaintances, traveling with friends to share expenses, visiting during off-season periods and booking a bed in a hostel. Depending on what areas you're willing to cut costs in, you'll have more money to spend splurging on your higher-priority indulgences.
Travelling isn't impossible if you plan ahead and anticipate your expenses. Basic budgeting will allow you to take a much-needed vacation after COVID-19 settles. If you need help, our bankers are just a phone call away at (262) 549-8500 or chat with us online.