Budgeting Apps to Help Stabilize Your Finances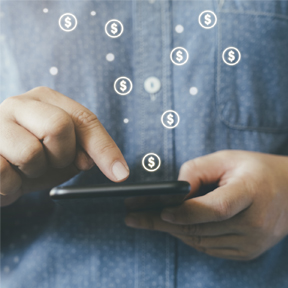 December 2020
If there's one thing we all want and need more of, it's money. However, many of us struggle to take control of our finances, whether that's because we spend too much on non-essentials, have a less-than-ideal credit score or any number of other factors. Thankfully, there are numerous smartphone apps that can help you keep track of your money and stabilize your financial situation.
Mint
Many people — including members of the NerdWallet editorial staff — consider Mint to be one of the best budgeting apps around, and it's easy to see why. Its main purpose is to track how much you spend and separate your purchases into categories like entertainment, bills, food and more. If you set a cap for each group, Mint will automatically alert you if you spend too much, giving you immediate input on where you should cut back. The best part? It's all free, and even provides complimentary credit scores and monitoring for active users.
YNAB
If you want to take a more active role in your finances, YNAB may be for you. The most important thing to know is that it's built around the zero-based budgeting philosophy, which encourages you to divide your total income into categories like food, rent and savings, with the goal being that every dollar is accounted for at the end of the month. It's certainly a committed approach that requires you to consider every dollar in your pocket, but it could save you a bundle. You can try YNAB for free for 34 days — with an additional year for students — but it will cost $84 per year after that period.
Clarity Money
Setting up a long-term spending plan can feel stressful, but Clarity Money makes it far easier. You can sync the app to all of the accounts you use on a regular basis, track your overall spending, set up categories and keep an eye on your credit scores. What sets it apart is that you can even monitor how much your monthly subscriptions cost and cancel them right from the app. Just like Mint, Clarity Money doesn't put any features behind a paywall.
PocketGuard
For simplicity, PocketGuard cannot be beaten. It takes a complex matrix of figures — your monthly expenses, everyday spending, savings goals, charitable donations, account balances and more — and condenses it into one number: how much you have to spend. As a first step on the road to financial security, knowing if you can afford that online impulse purchase or if it'll put you into the red seems like a great idea.
Personal Capital
Personal Capital combines the convenience of a free smartphone app with the expertise of a certified professional, especially if you're interested in growing your investment portfolio. The program provides you with multiple tools you can use to stay aware of how much you're spending from day to day, get a holistic view of your financial accounts and keep an eye on any outstanding loans. Personal Capital also has a staff of real-life advisors, just in case you have any questions.
Waukesha State Bank E-Alerts
You can also categorize your expenses and set up E-Alerts through Waukesha State Bank's VaultLink Online Banking.
To set up E-Alerts, follow the instructions below:
Log into VaultLink Online Banking, located at the top right of this screen.
Click "Alerts" on the top right of the page.
Click your account type (ex: Checking, Savings, etc.)
Click "Set up New Alert"
In the "Category" drop down box, choose your account type.
In the "Type" drop down box, select the type of alert you'd like to set up.
- For example: To set up an alert if your checking account balance falls below a certain dollar amount, select "Checking - Low Balance."
Click "Next"
Select the specific account you'd like the alert on and enter the remaining information.
- Depending on the alert, you may be asked to enter a dollar amount, a date, etc.
Select how you'd like to be notified of the alert and enter your contact information.
Click "Finish"
You will get your alert no later than 8:00 a.m. on the following business day (except the Checking Daily Balance alert, which you can choose to get every 2-24 hours). If you ever have any questions, please Chat with our Customer Service Center online, or call them at (262) 549-8531.