Beyond Coupons: Apps to Save You Money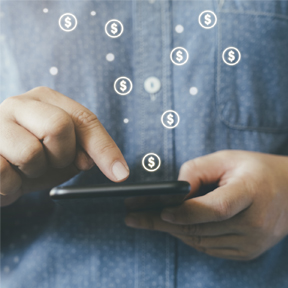 May 2020
In the 21st century, digital technology offers many new ways to save money that extend beyond the usual store sales and coupon-clipping. Numerous apps now let you pinch pennies on your terms from the convenience of your palm. Tap into these deal-filled apps to get the best price when shopping.
Shopkick
Claiming to be "the best shopping rewards app," Shopkick rewards you for doing business with online and local stores — as well as simply walking in and looking at the products. By downloading the app and creating a free account, you can earn Kicks (i.e., rewards points) for a number of activities: walking into stores, scanning barcodes of in-store products, purchasing products, linking a credit card and watching videos. As you quickly accumulate Kicks, you can redeem them for gift cards to major retailers like Amazon and Target.
Groupon
The internet offers many websites that connect people with group discount offers from local and national businesses, with Groupon being the most popular. Businesses post exclusive deals to Groupon, which you have a limited time to buy and redeem. Groupon originally hosted only local merchants like restaurants and gyms but has expanded its offers to travel opportunities and online goods. Groupon also owns Living Social, which is a similar group discount model. Download either app to start finding deals near you.
Honey
Save money when you shop at websites you already frequent when you install the Honey plug-in for your phone's internet browser. This money-saving extension tracks promo codes its users apply when shopping online and applies those same promo codes when you shop at the same site, potentially connecting you with a discount you wouldn't know about. You can also browse the Honey website for current sales at major retailers.
Even if you don't find a discount that works, Honey still tracks your purchases so you can accumulate Honey Gold from qualifying retailers, which can be redeemed for gift cards.
Military Cost Cutters
If you're a military member, veteran or member of a military family, many local and online businesses offer you discounts for shopping with them. But, it's not always easy for you to know what stores offer discounts without calling around or walking up to the cashier — unless you use Military Cost Cutters.
This app was created by a veteran-owned company that has compiled a searchable database of military-friendly businesses so you can find places in your own neighborhood. The app is free and offers a Loyalty Rewards Program that connects you with even more offers to save money.
Gas Buddy
You don't have to drive around town to find the best price for gas anymore, nor will you spend more money filling up because you didn't anticipate gas prices jumping suddenly. With the Gas Buddy app, you can monitor gas prices and identify the stations in your neighborhood with the lowest per-gallon price. This information is populated by tens of millions of app users like you, so you can help your neighbors save money, too. If you enroll in the free GasBack program, you can save an additional five cents per gallon when you fill up.
With the many reputable money-saving apps available today, keeping more of your hard-earned money only takes a couple of easy taps.