Apps To Help You Cultivate Gratitude In Your Life
August 2022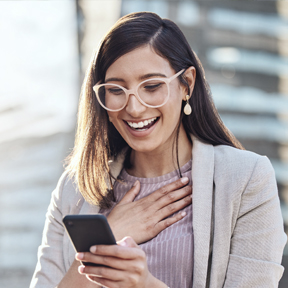 Life can be incredibly stressful, and it can be easy to lose focus on the positive things in your life. To help you cultivate gratitude, consider downloading one of these apps that will assist you with reflecting on the good parts of your life.
Morning!
One of the best ways to remember everything positive that has happened in your life is to write it down. The Morning! gratitude journal app is beautifully designed with calming pastel colors, and it offers a variety of services to help you handle practicing gratitude. The app is free for iOS users and includes five daily prompts to answer, helping you kick start your gratitude journal, as well as daily quotes to motivate you. You can also set daily reminders to turn your gratitude into a habit. The app is customizable, so you'll be able to change the color scheme if you like. If you're a data person, you can download or backup your journal with a PDF or CSV file. And if you want to keep things secure, you can protect your journal with Face ID, Touch ID, your device password, or your Morning! account password.
Reflectly Journal & AI Diary
Available on iOS and Android, the Reflectly app uses artificial intelligence to analyze your gratitude journal entries and then creates personalized prompts in the future. The app first asks you to rate your mood and write journal entries every morning. From there, the app's AI will assess a variety of factors to offer prompts that will help you cultivate even more gratitude in your life. This could include your word choice, emotional valence of certain words, and more. You can go back and view your journal entries at any time, which is great if you have memory problems. The mood tracker is also nice, because it can help you gain insights on stress levels and more. The Reflectly app is free for the basic version, but there is also a paid subscription that bundles Reflectly with eight other personal development apps.
365 Gratitude Journal – Self-Care App
If you want a long list of useful features to help cultivate gratitude, consider the 365 Gratitude Journal app. Along with daily prompts and a mood tracker, this helpful app also provides you with inspirational stories to read and meditation practices that you can follow. Not only that, but the app has sharing capabilities. This lets you share those inspirational stories and other helpful tips with your followers and friends. But the best part about this app is that you can make gratitude fun. Make your positivity a game with medallions, points, and rewards as you continue to use the app. You can also put your memories in a "gratitude jar" that helps you visualize everything. The 365 Gratitude Journal app offers a seven-day free trial for iOS and Android users. After that, you can choose between a yearly or monthly subscription.
All of these apps are great starting points if you're having trouble focusing on the positives and want a way to track the happy things that occur in your life.