February 2023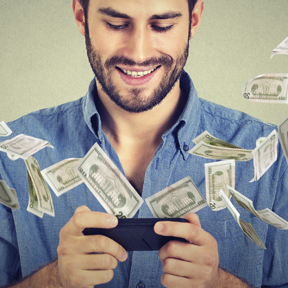 Looking to save some money? You don't have to shop sales or clip coupons — thanks to these handy apps, you can save big using nothing more than your smartphone. Here's a look at five apps that will help you get the best deals.
Honey
If you love shopping online, Forbes contributor TJ McCue recommends adding the Honey extension to your browser. Honey lets you search the web for coupon codes that apply to your order, and it'll automatically select the one that saves you the most money. Since it's built right into your browser, you won't have to open another tab to search for coupon codes and manually test to see if they're still valid — Honey takes care of all that. McCue mentions that Honey even works on Amazon, so you could be saving money on everything from books and movies to gifts and groceries.
Rakuten
Rakuten allows you to earn cash and other rewards across a wide variety of participating retail sites, including Amazon, Macy's, and Nike. Forbes advisor Kelly Anne Smith explains that all you have to do is make a free account. Then you can browse through a catalog of your popular online retailers to find discount codes, coupons, sales deals, and cash-back offers.
Ibotta
Everyone needs to buy groceries, so check out Ibotta to help you trim this essential expense. When you're making your grocery list, use the Ibotta to search for coupons that apply to your household's needs. All you have to do is mark them in the app, then purchase them at the store — no clipping or scanning required. Financial consultant Eric Rosenberg advises you to save your receipt, since you'll need to scan the barcode in order to receive your credit within a day. After you earn $20 in savings, you can receive cash via PayPal or Venmo.
Groupon
Want to save money without giving up too many of the finer things in life? Groupon can help you save big on family fun. Since Groupon vouchers can apply to everything from skiing and spa days to skydiving and miniature golf, they can make great holiday gifts for friends and family. You can receive deep discounts by purchasing vouchers — for instance, you could pay just $10 for a $20 dining voucher at a restaurant. That said, Rosenberg cautions that you should always read the fine print and use your discount within the allotted time frame.
Shopkick
To fully take advantage of the savings that Shopkick offers, you may have to do some strategizing. This app lets your earn points for shopping at both online and in-person establishments. Once you've saved up enough, you can trade them in for gift cards at popular retailers, including Walmart, Target, and Amazon. According to Rosenberg, one of the coolest things about Shopkick is that you can earn points without even making a purchase. Gather points by watching videos, checking out products online, and scanning bar codes in stores. To supercharge your point-earning capabilities, you can link a credit card to your account and use it to purchase goods at Shopkick's partner stores.
Want more ways to save? Check out personal finance blogs to read about other money-saving apps and coupon code aggregators.