Third-Party Payments
Easily manage payments of employee deductions for garnishments, child support and other deductions paid directly to a third party via check or ACH.
Unlimited Reports/Report Builder
Write custom reports that can be saved and set to run automatically with payroll. Over 100 payroll report templates to choose from.
Accounting/GL Interface
Save time by exporting payroll data into your accounting system!
With a click of a button, your general ledger will be updated. After each payroll run, we'll provide a file you can easily import into Quickbooks®, Peachtree® or your custom accounting system. Each file contains G/L entries, check information and job costing details. You'll appreciate the savings in time and reduction of input errors.
Customized G/L exports are also available!
Saves time and money
Minimal cost (one-time set-up fee then included in the standard payroll package)
Easy to get started
Simple file import
Payroll Process Review
Our payroll team will audit your current payroll process and offer solutions to ensure accuracy and efficiency.
Time Clocks
Take your time collection to the next level with a user-friendly text or touch-screen device.
Our time clock technology options are designed to simplify how your organization collects and manages employee time. All employee time data is sent directly to the iSolved human capital management platform via a seamless API integration. You can use this data to process accurate payroll or track who may be missing punches.
Take advantage of our technology to simplify managing employee time.
Onboard New Employees Easily

Welcoming new employees and getting them up and running quickly is important to making a positive first impression, as well as for team building and improving overall performance and productivity.
With our iSolved Onboard & Develop system, you can simplify the onboarding process by eliminating paperwork and redundancy and avoiding paperwork bottlenecks. Onboard & Develop offers:
Onboarding Self-Service: New hires can enter information directly into iSolved, avoiding duplicate data entry and improving data accuracy.
Customizable Onboarding Tools: You can customize the system tools to collect as little or as much information as you want.
Documentation Capture and Management: Seamlessly manage all new hire documentation, including I-9 employment verification and e-Verify.
Mobile Friendly: You, as well as your new hires, can manage the entire onboarding process when on the go.
Easy to Navigate: The system is designed with a simple UI for greater productivity and ease of use.
Engaging Experience for New Hires: The system provides a welcoming environment for new hires when they first arrive and sets the precedent for smooth integration.
If you're ready to establish a fast, simple and seamless onboarding process that eliminates paper, bottlenecks and time-consuming tasks, contact us today to get started!

WSB At Work Guaranteed Checking
Our exclusive checking program is designed for employees of our Payroll Complete business customers.
Guaranteed acceptance for your employees
Concierge Services - A banker will be assigned to your account for your employees' benefit
Access to a variety of products and services, including ITIN and minor friendly accounts
Spanish speaking bankers available
All of our Personal Checking Accounts feature:
*Whether or not an ATM has a surcharge, normal fees still apply as follows: A $2 transaction fee will apply at all non-Waukesha State Bank ATMs unless any one of the following conditions are met: 1) you are an Advantage Plus or Student Checking account owner, 2) you maintain a minimum balance of $2,500 or more during the checking account monthly statement cycle or savings service charge cycle (calendar month), 3) the transaction is a deposit, transfer or balance inquiry.
 **Checking accounts other than Advantage Plus or Value Added Checking Plus pay a fee for Online Bill Pay if they receive Paper Statements. For Advantage Plus, Value Added Checking Plus and other checking accounts with Paperless Statements, a monthly inactivity fee will apply after 60 days of non-use.
 Member FDIC
Employee Self Service Portal & Mobile App
Keeping your employees informed just got easier. Our Employee Self-Service product provides a portal and mobile app that empowers your employees to manage their own information, make informed decisions and communicate with HR easily.
Employee Self-Service allows employees to:
Create and maintain a personal payroll profile where they can change their direct deposit, address, marital status and exemptions, and emergency contacts
View check stubs and W-2 forms, plus get an email notification each time they are paid
Access company policies and documents
Enroll for benefits and view their current benefit elections and plan summaries
Carrier Connections
Integrating with third-party benefit carriers can be an enormous time-saver for human resources and payroll departments.
With Payroll Complete's iSolved software and the Data Integration & Audit add-on, you can choose the insurance carriers with which to integrate. The carrier feeds, also called Electronic Data Interchange (EDI) feeds, deliver benefit enrollment information and changes directly to insurance carriers. Our software also offers digitized forms, ensuring the best fit for any company.
Carrier feeds can benefit customers who are adding benefits administration to their platform or are looking for a human capital management platform that includes the option to communicate directly with carriers. Since our software platform is a single-source for all data, including all payroll, HR and time information, employee data doesn't have to be re-entered or imported.
Benefits include:
Automation of a time-consuming manual process
Reduced coverage errors
Less setup time for the benefits or HR department
Interested?
To learn more, contact: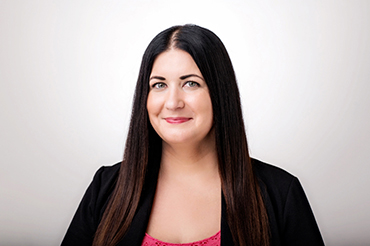 Stephanie Jerge
Business Development & Implementation Manager
(262) 549-8581
Email Stephanie