Tune Into These 4 Motivational Podcasts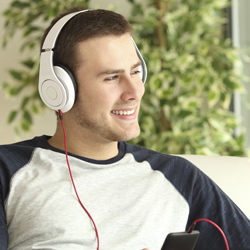 March 2020
The start of spring brings with it a slew of opportunities, including the chance to improve your overall mood and change your mindset for the better. Rather than zoning out to a local classic rock station on your way to school or work, consider tuning in to one of these four motivational podcasts to focus your mind on what really matters in your life and expand your thoughts.
TED Talks Daily
The first TED Talk conference was held in 1984, but it wasn't until 2006 that the first talks were posted online for anyone to view. Now, people around the globe can watch TED Talks from the comfort of their homes on YouTube and other video streaming platforms. These inspirational discussions cover a variety of topics, including technology, entertainment and design, hence the acronym TED. The
"TED Talks Daily"
 podcast provides new thought-provoking topics every weekday and gives you the chance to listen without the distraction of watching. Other insightful podcasts created by the company include The TED Interview, WorkLife with Adam Grant, TED en Español, TED Radio Hour and Sincerely, X.
Oprah's Super Soul Conversations
Oprah Winfrey's personal story of rags to riches is incredibly inspiring and her desire to help people throughout her illustrious career has been part of the reason she has won multiple awards for philanthropy. In her first
"Super Soul Conversations"
 podcast, uploaded in 2017, the talk show host spoke to research professor and well-known author Brené Brown. Since then, Winfrey has interviewed dozens more intriguing people like Michelle Obama, Glennon Doyle, Beto O'Rourke and Alanis Morissette. She also does readings from books by health, spirituality and wellness experts, providing a scintillating discussion about each topic.
Happier
Gretchen Rubin, author of
"The Happiness Project"
 and other self-help books, created the "Happier" podcast in hopes to help others find happiness. In each episode, Rubin and her sister Elizabeth Craft discuss good habits and ways to increase your own happiness by focusing on certain aspects of your life. Among the hundreds of episodes, Rubin and Craft start conversations about how friendships, pop culture, medication and so much more can have lasting effects on your overall mood. If you've got some extra time for reading, be sure to check out Rubin's book "The Four Tendencies," which covers different personality types and how you can harness your own to improve your life.
20 Minutes with Bronwyn
For a more business-like approach to motivational speaking, listen to some episodes of
"20 Minutes with Bronwyn."
 The host, Bronwyn Saglimbeni, is a communications expert who has worked with clients for over 15 years to improve their public speaking and media relations skills. In her podcast, Saglimbeni is incredibly candid, yet still humorous, with her advice for people in all areas of business. While some might think she's a bit harsh at times, it's exactly what some need in a motivational podcast. Some of the topics in recent episodes include how to communicate in a crisis, crying at work, adult friendship and taking risks.
Whether you just want to feel warm and fuzzy inside or you're looking for hard facts on how to improve your life, these motivation podcasts should do the trick. Hunker down, turn the volume up and listen to what these inspirational people have to say.